Pregnancy Yoga
Women who practice yoga during pregnancy are able to be really present in their bodies and connect with their unborn child.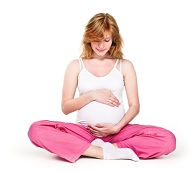 Pregnancy is a great personal journey for any woman and is a time of mental and physical change. It can also be a challenging time, as adjustments need to be made as the body starts to change shape.
A pregnancy yoga practice can help address some of these changes in a positive way. Women who practice yoga during pregnancy are able to be really present in their bodies and connect with their unborn child. Yoga has a calming effect on the mother, which is, in turn, transmitted to the baby.
Breathing techniques learnt in prenatal yoga can be used at any time during pregnancy and many women find them very useful when giving birth. Focusing on the breath can have a profound effect; by learning to control the breath women may feel empowered and more in control of their thoughts and body.
Pregnancy yoga differs from general yoga classes, in that many of the classical poses are adapted to accommodate the changes in the body. Twists are open, poses are fluid and nurturing for the mum to be, creating space in the body and helping to alleviate some of the common ailments often associated with pregnancy such as: backache, heartburn, swollen limbs etc.
By practising yoga the body is strengthened and toned and many women find that they regain their shape and fitness quicker after giving birth. On top of this, spending time in a pregnancy yoga class with other women can be an emotionally bonding experience and many friendships are formed at this time.
Women can attend Pregnancy Yoga classes from 12/13 weeks of pregnancy.
To book call 020 8879 1555 or email enquiries@prophysiotherapy.co.uk. 
Pregnancy Yoga London Times & Prices
We are so happy to announce that our pregnancy yoga classes are back up and running from October 13th!
Due to COVID-19, we want to be even more careful with our mother's to be, so for the moment these classes will be done using ZOOM – the video platform.
These classes will be taking place every Tuesday evenings 19:00-20:00.
Our lovely teacher Ali will guide you through;
Breathing
Yoga breathing techniques might help you reduce or manage shortness of breath during pregnancy and work through contractions during labor.
Gentle stretching
You'll be encouraged to gently move different areas of your body, such as your neck and arms, through their full range of motion.
Posture
While standing, sitting or lying on the ground, you'll gently move your body into different positions aimed at developing your strength, flexibility and balance. Props — such as blankets, cushions and belts — might be used to provide support and comfort.
Cool down and relaxation
At the end of each prenatal yoga class, you'll relax your muscles and restore your resting heart rate and breathing rhythm. You might be encouraged to listen to your own breathing, pay close attention to sensations, thoughts and emotions, or repeat a mantra or word to bring about a state of self-awareness and inner calm.
Pregnancy Yoga class times
The class times are
Tuesday
7:00pm – 8:00pm
Ali
Prices

Drop in
60 minutes
£16.00
6 Classes
60 minutes / Per Class
£84.00
If you buy a 6 class package – it has to be used within 8 weeks.
The Experts…
020 3322 5215
enquiries@prophysiotherapy.co.uk
Ali is a London based teacher who teaches Yoga Classes in Putney and Earlsfield. Ali discovered yoga 10 years ago as an antidote to long hours and stress whilst working as a fashion designer.
A friend introduced her to the Jivamukti method in 2011. Ali immediately connected with the creativity of the teaching and the powerful way that music is interwoven into each class. This helped her to go deeper into her own practice and become more receptive to the spiritual teachings that shaped each class. She welcomed this new perspective the practice has brought to her life.
Trained in the Jivamukti method, Ali is 800h qualified. Her classes offer a challenging but well balanced practice of asana combined with spiritual teaching, meditation and relaxation.
Ali is mother to 8 year old Maisie. Inspired by her own experience during pregnancy she qualified to teach pregnancy yoga with Yogamama.
Ali is grateful to all her teachers and students who continue to guide and inspire her.
Ali is available for private classes, please get in touch for more information.