Pregnancy Yoga
Women who practice yoga during pregnancy are able to be really present in their bodies and connect with their unborn child.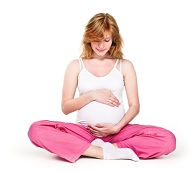 Pregnancy is a great personal journey for any woman and is a time of mental and physical change. It can also be a challenging time, as adjustments need to be made as the body starts to change shape.
A pregnancy yoga practice can help address some of these changes in a positive way. Women who practice yoga during pregnancy are able to be really present in their bodies and connect with their unborn child. Yoga has a calming effect on the mother, which is, in turn, transmitted to the baby.
Breathing techniques learnt in prenatal yoga can be used at any time during pregnancy and many women find them very useful when giving birth. Focusing on the breath can have a profound effect; by learning to control the breath women may feel empowered and more in control of their thoughts and body.
Pregnancy yoga differs from general yoga classes, in that many of the classical poses are adapted to accommodate the changes in the body. Twists are open, poses are fluid and nurturing for the mum to be, creating space in the body and helping to alleviate some of the common ailments often associated with pregnancy such as: backache, heartburn, swollen limbs etc.
By practising yoga the body is strengthened and toned and many women find that they regain their shape and fitness quicker after giving birth. On top of this, spending time in a pregnancy yoga class with other women can be an emotionally bonding experience and many friendships are formed at this time.
Women can attend Pregnancy Yoga classes from 12/13 weeks of pregnancy.
To book call 020 8879 1555 or email enquiries@prophysiotherapy.co.uk. 
Pregnancy Yoga London Times & Prices
Pregnancy Yoga class times
The class times are
Monday
7 pm – 8 pm
Rebecca
Prices
Drop in
60 minutes
£16.00
6 Classes
60 minutes / Per Class
£84.00
If you buy a 6 class package – it has to be used within 8 weeks.
The Experts…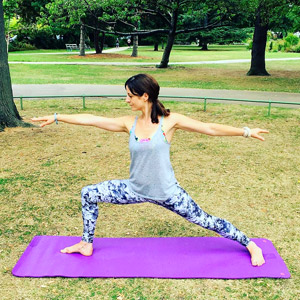 020 8879 1555
Rebecca Spong is a trained vinyasa yoga, pregnancy and post-natal yoga teacher with a personal yoga practice spanning more than a decade. She draws influence from a range of yoga styles with the aim of keeping classes fluid – while allowing movements to be modified to the needs of the students.
She is also a freelance journalist and knows what it is like to sit hunched over a desk all day trying to hit deadlines – and how yoga can provide a sanctuary from the stresses of daily life. Her pregnancy yoga classes aim to provide a safe, nurturing and accepting space for all mothers to find rest and relaxation. Through physical movement, breathing and relaxation techniques, mothers will be emotionally supported through their pregnancy while also learning techniques to alleviate the physical pressures on their changing bodies.