Pregnancy Yoga
Women who practice yoga during pregnancy are able to be really present in their bodies and connect with their unborn child.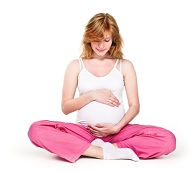 Pregnancy is a great personal journey for any woman and is a time of mental and physical change. It can also be a challenging time, as adjustments need to be made as the body starts to change shape.
A pregnancy yoga practice can help address some of these changes in a positive way. Women who practice yoga during pregnancy are able to be really present in their bodies and connect with their unborn child. Yoga has a calming effect on the mother, which is, in turn, transmitted to the baby.
Breathing techniques learnt in prenatal yoga can be used at any time during pregnancy and many women find them very useful when giving birth. Focusing on the breath can have a profound effect; by learning to control the breath women may feel empowered and more in control of their thoughts and body.
Pregnancy yoga differs from general yoga classes, in that many of the classical poses are adapted to accommodate the changes in the body. Twists are open, poses are fluid and nurturing for the mum to be, creating space in the body and helping to alleviate some of the common ailments often associated with pregnancy such as: backache, heartburn, swollen limbs etc.
By practising yoga the body is strengthened and toned and many women find that they regain their shape and fitness quicker after giving birth. On top of this, spending time in a pregnancy yoga class with other women can be an emotionally bonding experience and many friendships are formed at this time.
Women can attend Pregnancy Yoga classes from 12/13 weeks of pregnancy.
To book call 020 8879 1555 or email enquiries@prophysiotherapy.co.uk. 
Pregnancy Yoga London Times & Prices
Pregnancy Yoga class times
The class times are
Tuesday
7 pm – 8 pm
Elena
Prices
Drop in
60 minutes
£16.00
6 Classes
60 minutes / Per Class
£84.00
If you buy a 6 class package – it has to be used within 8 weeks.
The Experts…
020 8879 1555
A former professional dancer Elena discovered yoga was the perfect compliment to her rigorous rehearsal schedule. She loved that yoga allowed her to improve her strength and flexibility simply by slowing down and listening to her body.
200 hour Vinyasa Yoga teacher training certification San Diego, CA – 2013
Level 1Restorative Healing and Yin Yoga certification La Jolla, CA – 2014
100 hour certification in Blissology yoga with Eoin Finn Bali, Indonesia – 2015
65 hour Pregnancy & Postnatal teacher training with Cherie Lathey of Yoga Mama, London – 2019
Based in London whether teaching in offices, gyms, rooftops, or homes her classes are warm, grounded, and real. She is a firm believer that yoga is for everybody and especially enjoys introducing yoga to those who want to start but feel afraid or intimidated. Her goal is to make sure each student feels confident and comfortable while learning. Expect fun, eclectic playlists, high fives and laughter while still finding space for focus and quiet on your mat.