Catherine "Kate" Robertson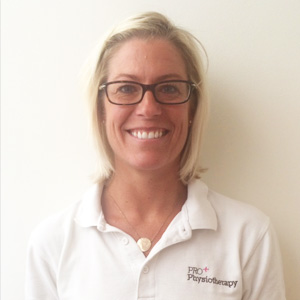 020 8879 1555
k.robertson@prophysiotherapy.co.uk
Services
MSc MCSP
Advanced Practice Physiotherapist
Achieved a distinction in her Physiotherapy Masters in Sports Injury and Therapy from Manchester Metropolitan University in 2003. She works closely with the Orthopaedic Consultants at St George's Hospital, London and at Frimley NHS Trust.  She has over 20 years experience in treating patients.
She also works as an Extended Scope Practitioner (ESP) in Orthopaedic Spine Clinic and performs peripheral injections and is training to perform spinal injections. She completed her Diploma in Injection Therapy at the University of Hertfordshire in 2012 and finds that using corticosteroid injections as an adjunct to physiotherapy can be exceptionally useful and successful. Kate completed her non-medical Independent Prescribing course from the University of Brighton in 2017 and therefore has the ability to prescribe the necessary medications for the injection without the need for you to see your GP for the prescription.
Kate has excellent experience in treating lower limb injuries and assessing biomechanical issue, as well as her experience in managing patients with spinal injuries and pain.