Catherine "Kate" Robertson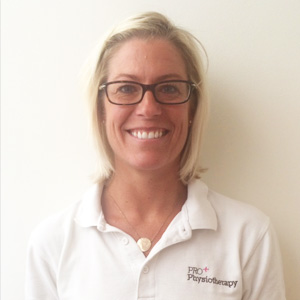 020 8879 1555
k.robertson@prophysiotherapy.co.uk
Services
MSc MCSP
Advanced Practice Physiotherapist
Achieved a distinction in her Physiotherapy Masters in Sports Injury and Therapy from Manchester Metropolitan University in 2003. She works very closely with the Orthopaedic Consultants at St George's Hospital, London and at Frimley NHS Trust. She has over 20 years experience in assessing and treating all musculoskeletal patients.
Clinically she works as an Advanced Practice Physiotherapist (APP) in Orthopaedic Spine Clinic and performs peripheral injections and spinal injections in the NHS. She completed her Diploma in Injection Therapy at the University of Hertfordshire in 2012 and finds that using corticosteroid injections as an adjunct to physiotherapy can be exceptionally useful and successful. Kate completed her non-medical Independent Prescribing course from the University of Brighton in 2017 and therefore has the qualification to prescribe medications where appropriate.
Kate has an excellent knowledge base for treating lower limb injuries and assessing biomechanical issues. Due to her Masters qualification, she enjoys treating all sporting injuries and she specialises in ACL reconstruction and post op knee rehabilitation, and has a particular interest in biomechanical and gait assessments. She worked in Val d'Isere for 2 seasons and has therefore treated numerous skiing injuries. Her NHS work ensures that she provides research based spinal treatments and takes a holistic approach to all patients to help them achieve their goals.