Zumba
Zumba offers dance fitness classes that are fun, energetic, and make you feel amazing!
Zumba is perfect for…
Everyone!! It is a fun class with Latin and World rhythms to get you in the mood for moving. You're guaranteed to sweat!
How it works…
Zumba takes the "work" out of workout by giving you a fun dance fitness party, and has the reputation of being "exercise in disguise". The class mixes low-intensity and high-intensity moves for an interval-style, calorie-burning class.
Benefits of Zumba…
A whole body workout, Zumba combines cardio, muscle conditioning, balance and flexibility, which will boost your energy and make you feel amazing after each class.
Earlsfield Pilates Classes
Earlsfield Class Times
The class times are
Thursdays
10:45 am (class starts at 11am)
Zumba
Liz
Earlsfield Prices
Single class booking
60 minutes
£15.00
Block booking
6 sessions
£80.00
Block booking
12 sessions
£150.00
Any pre-paid classes can be used whenever you like and do not need to be used consecutively, so if you are away on holiday, out of London or can't make a class you do not lose that session – just give us 24 hours notice!
If you buy a 6 class package – it has to be used within 8 weeks; a 12 week package has to be used within 16 weeks.
The Experts…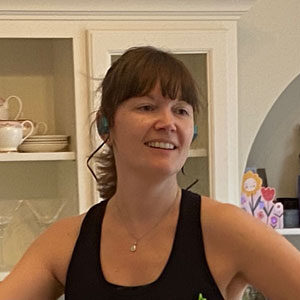 020 8879 1555
I have danced all my life. It enables me to be fit and exercise without feeling like I'm doing exercise. I first attended a Zumba class in 2011 and absolutely loved it! I loved the energy, the music and the choreography. In the years since I have consistently attended Zumba classes, with a few breaks to have my 3 children.
During the first lockdown I realised that this was something that I loved that I could do and I decided to train to teach Zumba. The training was really enjoyable and I have already had lots of fun teaching on Zoom. I am looking forward to being able to teach face to face classes.
I am qualified to teach Zumba Basics and I am in the process of gaining my Level 2 Dance Fitness qualification through EMD-UK (delayed due to Covid restrictions).