Sports Massage – Aid Your Recovery
The benefits of sports massage are extensive, and massage itself has been an accepted modality for many centuries, dating back as far as ancient China. It is no wonder, that everyday across the globe thousands of people actively seek out massage therapy.
What Is Sports Massage?
Sports massage itself is defined as a collection of different massage techniques performed to aid in the recovery or treatment of any specific pathology. It is often more vigorous than other types of massage and has been developed from traditional massage and combined with various other techniques from other disciplines, with the aim of treating soft tissue aches, pains and injuries as well as revitalising and improving the general condition of muscles and ligaments, providing enhanced form, posture and performance. The sports massage is very much a hands on therapy and each massage is usefully tailored for specific injuries or symptom sets, incorporating elements from one or more of the following; Swedish massage, deep tissue massage, shiatsu, compression, trigger point therapy, stretching, myofascial release, cross-fibre frictions, lymphatic massage and taping.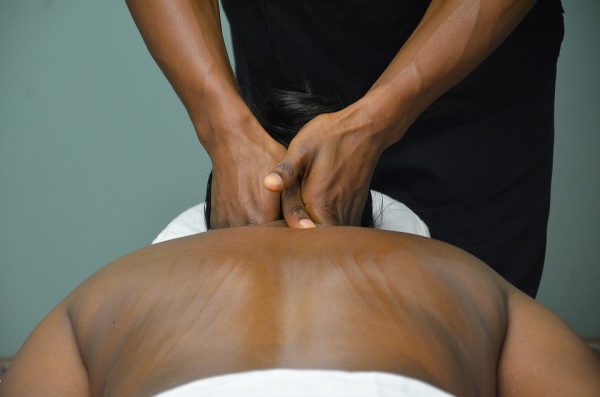 Who is It For?
As the name would suggest, sports massage is popular with athletes and those participating in some form of regular exercise. For professional athletes, sports massage is viewed as a necessity to help improve performance and repair injury, rather than a relaxing therapy. It is understood to be an integral part of training and body conditioning. During sporting events such as the Olympics, most athletes make frequent visits to the sports medicine facility where they receive medical assistance, physiotherapy, sports massage as well as other therapies and treatments.
However, anyone can benefit from regular sports massages, as many occupations put strain on the body. This may be from a physically demanding job, running around after small children or from desk work.  Many people in 5 day a week desk-bound employment suffer from a number of postural stresses and muscular aches, and whilst a number of desk workers manage to summon the energy for an intense workout following an 8-hour day of sitting, many suffer from regular aches and pains. This should come as no surprise, a largely sedentary lifestyle interrupted by intermittent bursts of intense exercise will more than likely take its toll on the body – massage therapy is an extremely effective way to combat soft tissue aches and pains from repetitive postural strains.
Why is Sports Massage Beneficial?
Sports massage has numerous benefits, both physical and psychological – helping both professional athletes and those participating in regular exercise, stay in peak condition as well as assisting in the rehabilitation of injuries.
It is said to reduce the risk of injury as well as improving recovery following training, assisting in lymphatic drainage, helping toxins such as lactic acid (which builds up after training and is associated with cramps) to leave the body quicker. It also aids in pain reduction, improved blood flow, increased tissue permeability as well as improving flexibility, providing an increased range of motion and boosting performance. Sports massage is also believed to stimulate relaxation and release endorphins producing the feel-good factor.
Is Sports Massage Painful?
A sports massage typically beings with various stroking movements 'effleurage' to warm the muscles, this is usually followed by 'petrissage', a kneading technique which aims to penetrate deeper tissue. Following this, the therapist will work at breaking down lesions and tissue injuries, which may result in some discomfort.
How Often Is A Sports Massage Needed?
Sports massage can occur in a variety of different settings, both professional and personal and these may be administered with varying frequencies for different goals.
A professional athlete actively training and competing may have daily massages, on competition days he or she may have more than one sports massage – a warm up massage and a post event rehabilitation massage to relieve any aches and pain which may have materialised as a result of the heavy training and competition.
For non-professional athletes, frequency may vary depending on individual needs and circumstances, with anything from weekly to monthly sessions.
About the Sports Therapist
Sports massage is a growing field and has played a key role in the advancement over the past decades in the approach to the training and conditioning of athletes. It is now an officially recognised component of athlete care, especially at premium level sporting events such as the Olympics. A well-qualified sports therapist should demonstrate an in-depth understanding of the musculoskeletal system as well as the mechanics of injury and the recovery process. Sports therapists working on-site at professional sporting events, will often have to attend to injuries not only before and after events, but also during competition.
Sports Massage London
ProPhysiotherapy offer a wide range of services including Sports Massage Therapy at our London based clinics. All our therapists are experts within their field and can help with a wide range of soft tissue dysfunctions aiding in recovery, performance and general maintenance. Sports massage is often combined with other treatments such as physiotherapy, specific stretching exercises and other techniques including pilates. For more information regarding our services, get in touch today.