Kate O'Brien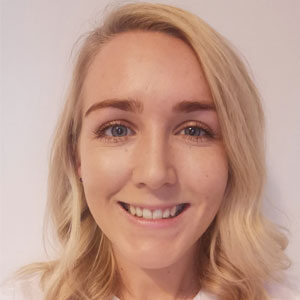 020 8879 1555
enquiries@prophysiotherapy.co.uk
Services
MSc MSCP
Physiotherapy Specialist
Kate qualified from St. George's University Hospital in 2016 with an MSc Physiotherapy degree, following the completion of her undergraduate qualification in Sports and Exercise Science in the University of Limerick.
Since then Kate has worked for the NHS in St. George's University Hospital and privately for the local Battersea Ironsides Rugby Club.
Kate is qualified in APPI pilates and has worked with ante-natal and postnatal clients in assisting with a strengthening programme based on their specific needs and pregnancy related musculoskeletal pathologies.
Kate is currently involved with the trauma and orthopaedic team in St. George's Hospital. She has a wide range of experience in treating acute injuries and post-operative patients including ACL rehabilitation and works closely with the orthopaedic team on a daily basis.
Kate is skilled in the treatment of all musculoskeletal conditions and utilised a variety of treatments including manual therapy, acupuncture, dry needling, soft tissue massage, education and exercise prescription based on the clients' needs.
As a marathon runner and keen cyclist, Kate is passionate about injury prevention and rehabilitation. She works closely alongside her clients to ensure they achieve their goals in returning their activity or sport of choice.