Chloe Binmore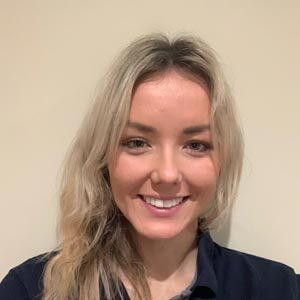 020 8879 1555
enquiries@prophysiotherapy.co.uk
Services
BSc MCSP
Physiotherapy Specialist
Chloe graduated from Cardiff University in 2019 with a first-class honours in Physiotherapy. She has since spent her time gaining professional experience within 2 NHS trusts and is currently working with antenatal and postnatal patients at St George's University Hospital treating pregnancy related musculoskeletal pathologies. Chloe has completed multiple clinical rotations including trauma and orthopaedics and musculoskeletal outpatients and has treated a wide range of shoulder, hip and knee injuries.
Chloe has a Level 4 Diploma in sports massage and is a member of the Chartered Society of Physiotherapy (CSP) and the Health Care Professions Council (HCPC). Chloe is a professional and friendly therapist and enjoys helping patients to achieve their individual goals, through manual therapy, exercise, and rehabilitation.
Chloe is an avid tennis player and represented her county for 5 years as a junior. Chloe's experience within sport has given her a specific interest in sports rehabilitation and injury prevention.